Are you ready to fully open your restaurant/s? Open your restaurants with Contactless Solution to combat peak time rush and increase efficiency with the least labor involvement. 
Many restaurants have returned to full capacity in Texas after March 10, when the mask mandate was lifted. The more people are getting the vaccine, the closer we are resuming to the pre-pandemic lifestyle. Restaurants should prepare and get ready to handle the full operation with efficiency and safety concerns. Let's welcome back all your customers and give them a brand-new experience with contactless solutions.

Managing a restaurant at full capacity involves well-organized system and detailed planning. You are back to the busy time now and in a multi-tasking situation. You need to take orders, deliver food, and restock inventories. What about peak time operation and labor shortage when you have a full house of customers? Since the pandemic forced many restaurants to close and rise unemployment rate, restaurants had issues recruiting back employees due to the unemployment benefit. The high labor cost, unstable employment, and safety concerns have shaped restaurants' business model, such as adapting to contactless technology as the most ideal, long-term solution to reduce cost while increasing efficiency. QR code solution, Kiosk, online ordering, and remote access are built to obtain your unique needs.
Scan QR Code to Save Labors
QR solution is the most accessible contactless technology a restaurant can implement without any hardware. Customers can scan the QR code to order, request service, pay, and review—self service from beginning to end. In addition, the solution replaces the traditional menu, creates a new customer experience, and reduces labor. As restaurant, you give full control back to your customers order at their own pace without worrying about the order accuracy. Your wait staff can better serve the customers without running back and force to key in orders or split bills. Each payment code is generated on each receipt based on the correct amount for customers who want to split the bill; customers no longer have to wait for the staff to process their payments. To complete your customers' dining experience, let them scan a review code to give you a 5 star rating. You get direct feedback on the spot with reputation control to thank your customers or resolve any negative response. Just one scan can lead to a smooth operation with minimal physical contact and labor.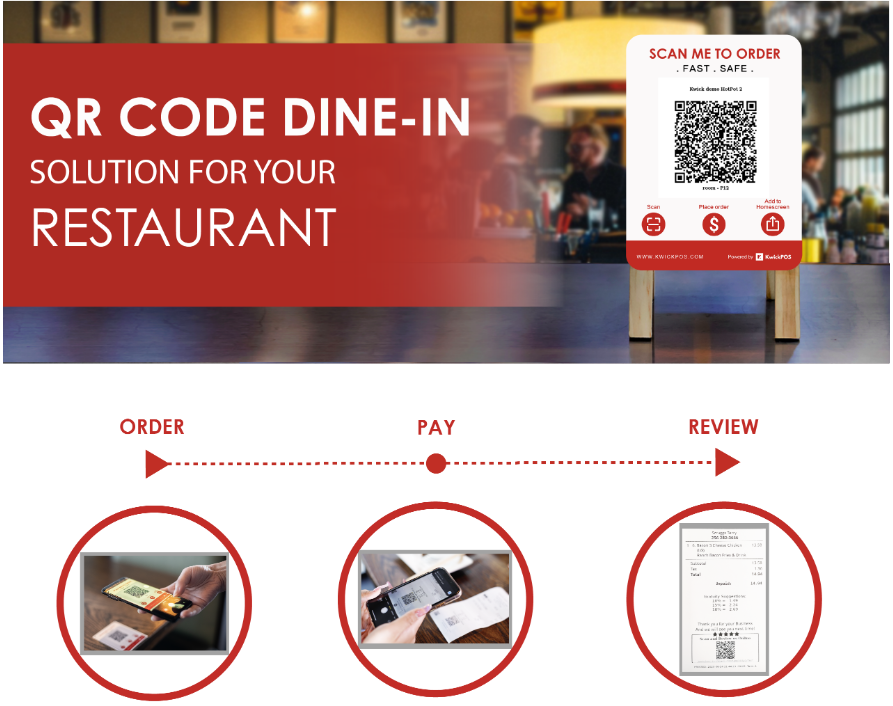 Use the stand-alone Kiosks as your in-store digital employee from reception to payment. Have you ever seen your customer struggling with the menu, trying to figure out what to order? With Kiosk, your customers won't feel rushed and will enjoy the high-resolution picture for each menu item with personalized modifications. It reduces labor intensity and eliminates receptionists, which became a new fave of boba tea shops and juice bars. All orders are firing straight to different kitchen prep stations, reducing the serving time while increasing the table turn rate. Even at peak time, Kiosk can help you organize the waiting line and standardize the customer experience.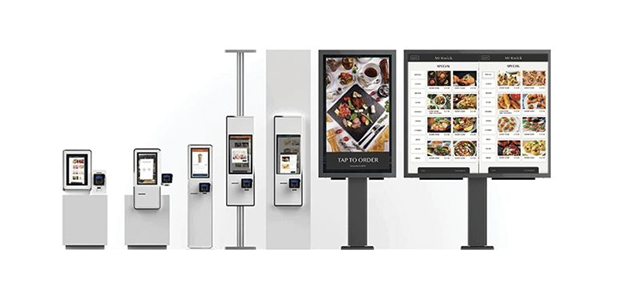 Online Order Straight to Your kitchen
Let online ordering handles part of your offline orders when your restaurant is busy. Your customers don't have to wait on the other side of the phone or in front of the cash register; especially, during their limited lunch break. KwickPOS' online ordering system refuses to put extra work on you, unlike UberEats or other platforms. All online orders, including QR code and Kiosk, are automatically sent to the kitchen, no more manual entry, no more wrong orders, and no more wasting time. When customers place orders online, the system will capture their information to analysis order preference and then send promotions. If you have the hardware, our online order system will work there.
Remote Access

, Break the Location Boundary 
Restaurants love the accessibility of remote control to oversee the business performance and manage every aspect of the operation on the go for a single or multi-location. Managers or owners can efficiently process orders, monitor employee activity, compare reports, and more. What can be more convenient and intuitive than managing your restaurant whenever and wherever without missing any business opportunities? When you are out of sight, changes can happen, and ingredients may run out. A quick announcement about business changes is all you need, whether it's an in-system alert or a text blast to your customers. In addition, the system sends out a snapshot of your daily sales or sensitive operation alerts to ease your worries while unable to attend the business on-site.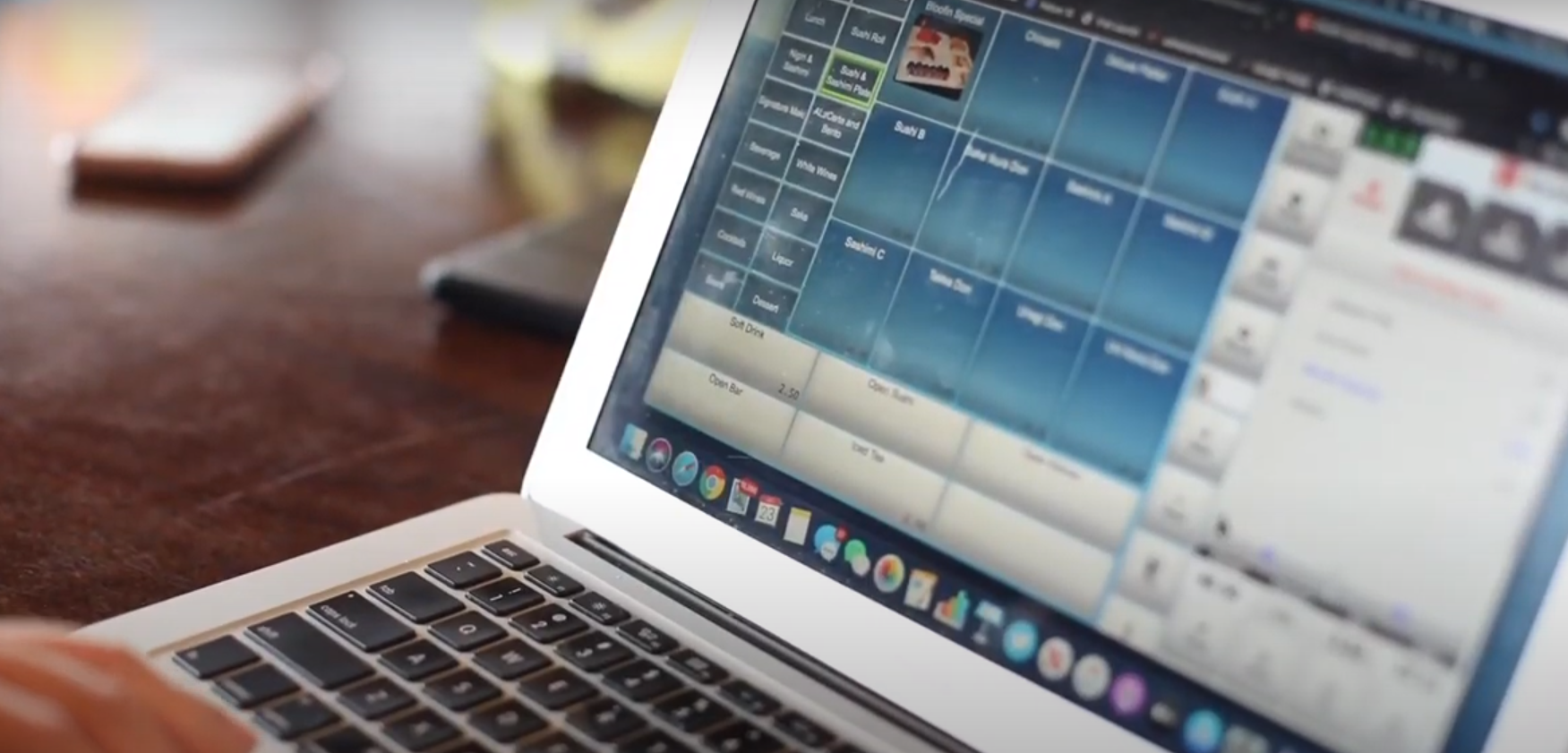 [wwwkwickposcom-divi-related-links _builder_version="3.29.3″][/wwwkwickposcom-divi-related-links]
Boost your profits with better management and higher efficiency!
Feel hassle with purchasing? Call us today to get more information!
Try our demo.
Drop us a note, we will get your appointment sorted.