No manual entry, all orders send straight to the system or print straight to your back kitchen in different prep
stations.

Get it now for FREE!
Online ordering has been a must-have consumption channel for diners since before the outbreak. With the spread of the pandemic, it has become mainstream for restaurants and diners to make up for the restaurant dine-in loss. However, many online ordering platforms have added cost burdens and issues for restaurant owners, causing many small restaurants to stop using it. In response to restaurants' pain points, we continue to refine the online ordering features to truly maximize the interests of restaurants and your customers. One of our clients, Share Tea, was able to open its business during the pandemic with the powerful features of KwickPOS online ordering and has thrived since. 
Your Pain Points
After several rounds of customer surveys, we summarized the most common pain points of restaurants and broke them one by one to help you opening communication and sales channels! For example, a typical third-party platform will charge the restaurants a high service fee and then raise your menu price for your customers just to ensure the platforms' operation. Customers often order $12 in food but pay close to $18 in total, which may cause them to leave a negative review to your restaurant after noticing the price discrepancy. Also, restaurants only get paid two weeks later after delivering the order. With KwickPOS' free online ordering, we only charge your customers $1 per order, and you get the payment right away when customers pay you. Mark your most painful points and let us solve them for you!

Share Tea's New Model, Online Orders Only
Share Tea is a famous international boba tea chain. When COVID-19 hit the entire catering industry, one of California's stores successfully opened the business against the current and only accepted online orders. Since then, their performance has grown steadily. Most of Share Tea's online orders come from KwickPOS, except for a fraction number of online orders from other third-party platforms.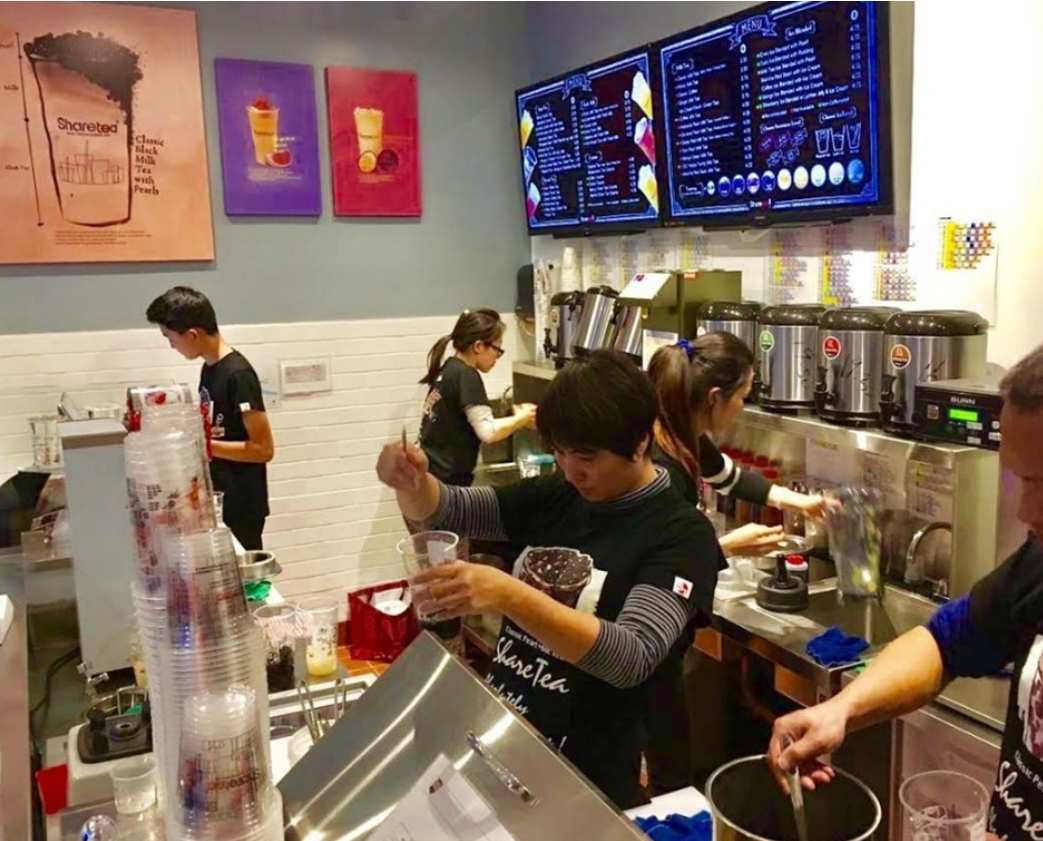 100% Online Order without Cashier
Before the opening, Share Tea determined to rely on online ordering as a new business model to deal with the pandemic. They chose KwickPOS to support all pickup orders because our online ordering prints orders directly to their kitchen without double entry. We built the customized website to connect directly to Share Tea's Google Map with SEO, allowing customers to easily find the store and place orders with the fewest number of steps. From the internal data, as shown below, all orders are placed online.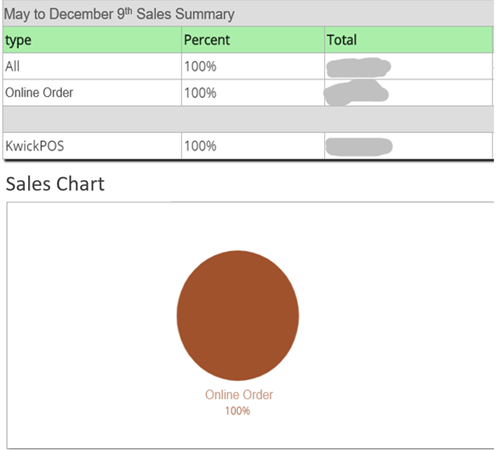 Save at Least $5000 a Month in Wages
Share Tea's popularity is well known within the community; it has a steady stream of orders flow in every day. At the peak time, it needs at least five people to make the orders. Without a Cashier, the store is able to handle large orders with minimal labor and quality assurance during busy hours since they don't have to switch back and force typing orders. In addition, during the outbreak, most restaurants faced labor panics, which Share Tea easily avoided with KwickPOS online ordering and saved at least $5000 per month in Cashier wages. It allowed Share Tea to devote itself to making drinks and better serving customers, in turn, consolidating its popularity.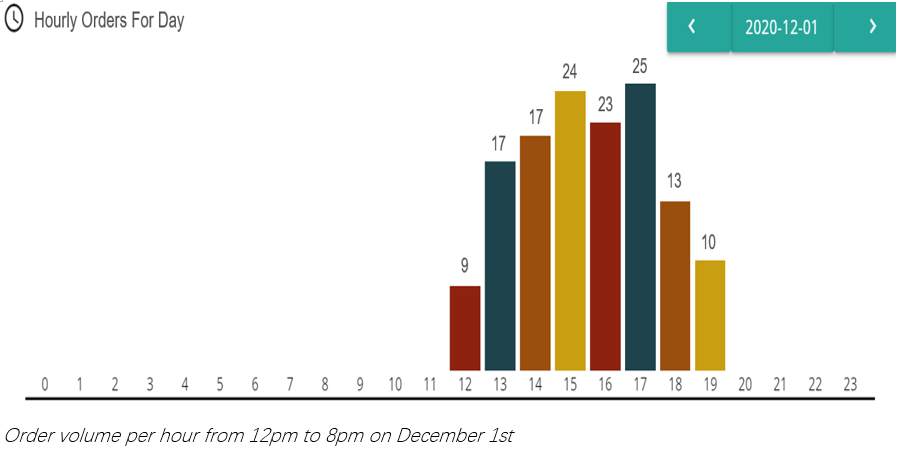 Since Share Tea opened until December 9th, the average peak time centers around 3 pm and the cumulative online order volume is close to 6,000. For example, on December 1st, 72 orders were processed between 3 pm and 5 pm in terms of daily order volume. If you drink boba tea, you know that people often have various special requirements when ordering their drinks. If you have to enter each online order by hand, it will increase the time to complete the order and not guarantee a 100% error-free order entry. Share Tea fully utilizes the advantages of KwickPOS online ordering and achieves fast and high-quality service!
Online Ordering in All Domains
Only having your own online ordering can consolidate the brand image and increase the number of customers to make up for the lack of dine-in during the pandemic. We will design the official website with SEO according to restaurants' needs and maintain the website at any time.
Self-Control
Once the online ordering is launched, the restaurant owner or manager can update the website at the back office of KwickPOS via computer, iPad, or mobile phone anytime and anywhere. Other third-party platforms usually do not allow restaurants to update themselves, and each update has to go through customer service with a long wait. Our online ordering allows you to switch between self updates and customer service updates with a fraction of the time!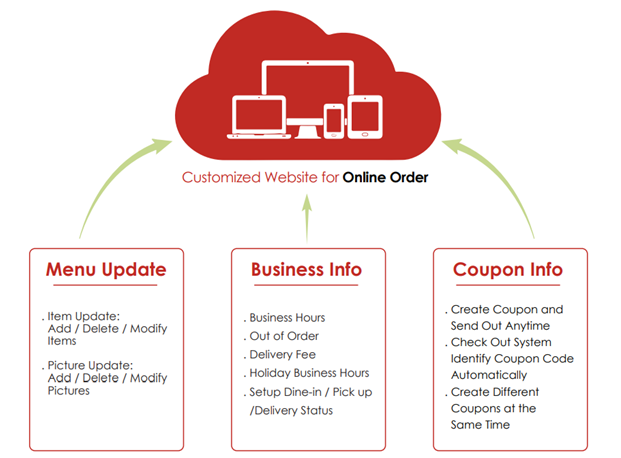 Easy Operation
As the graphic illustrates how our system process online orders from the moment customers place the order to receive the order.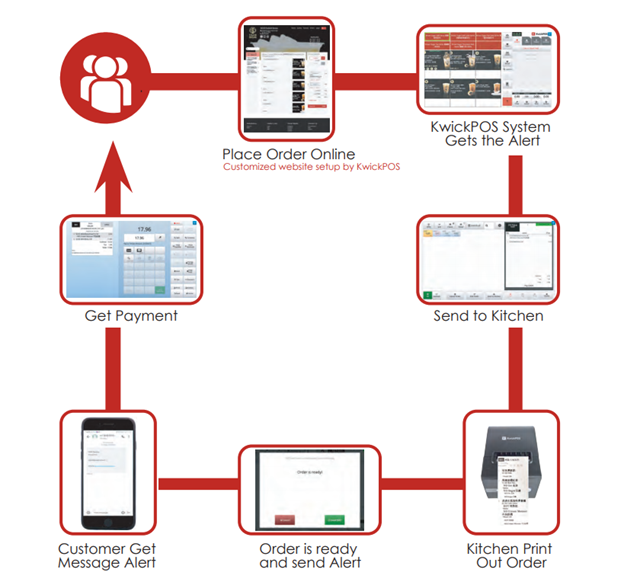 Integration for Order Maximization
Online ordering plus marketing and QR code functions can improve service quality in a short time and lock customers within your reach. Once your customers place an order on your website or using our QR code ordering, KwickPOS will grab their information to CRM with further analysis. You can use the information to target your customers base on their preference for sufficient growth and retention.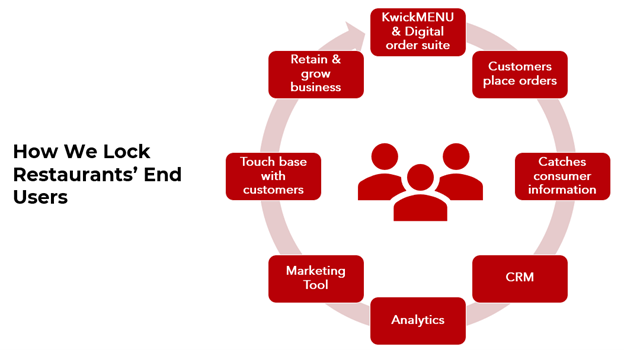 Text Marketing
After the CRM captures customers' information, the restaurant can send promotional content or make announcements in groups. You can also set up text alerts to automatically notify pickup or delivery customers after the meal is ready. Text marketing allows you to evaluate your marketing activities in real time to see if customers read the message and reduce the cost of paper flyers by 90%.
Online Ordering for Dine-in by QR Code Technology
Dine-in or pickup customers can order and pay at your restaurant's official website via our QR code features. Once they make a payment, electronic receipts and notifications will be texted to your customer with an order link to promote repurchase. QR code ordering and payment minimize human contact, reduce in-store menus and labor costs, and increase consumer database and website traffic.
Why Choose Us
Our original intention of developing online ordering is to solve the hassles that other platforms bring to restaurants while allowing your customers to place orders without the financial burden. The following data also further explains why restaurants choose KwickPOS and the development trend of online ordering.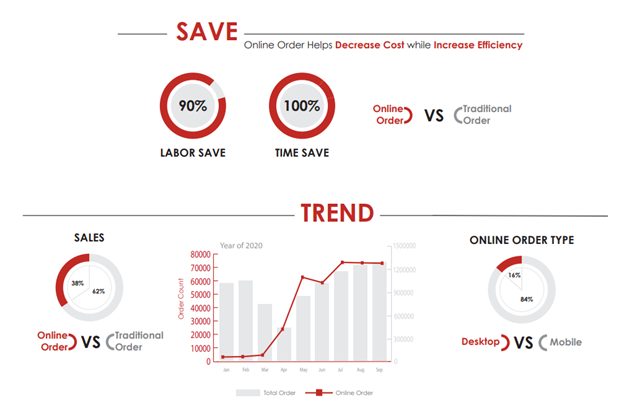 Since March, the number of online orders has increased sharply, indicating that our clients have been using online order during COVID-19 to compensate for the in-store sales to achieve contactless operations. Meanwhile, it shows that consumers are also more inclined to online ordering to ensure personal safety.
Free Online Ordering Free Hassle!
Share Tea's practice of using KwickPOS has proved the effectiveness of our product. Whether it is website customization or integration with marketing and QR code technology, we have become the first choice of many clients. Claim your free online order service or contact us to learn more about the feature and useful tips.
Boost your profits with better management and higher efficiency!
Feel hassle with purchasing? Call us today to get more information!
Try our demo.
Drop us a note, we will get your appointment sorted.