Chinese New Year and Valentine's Day is right around the corner; we've put together the holiday promotion ideas and channels for you! Plan your restaurant's special offers first and text to your customers in advance that the holiday crowd is yours.

First-time users can get 500 SMS! Start saving 90% of the cost by cutting down printed flyers now!
Chinese New Year and Valentine's Day are both times when restaurants are scrambling to promote their businesses, so don't miss out on this great opportunity! If you haven't thought of an idea yet, we got great ones for you, or if you've already planned an event, keep reading to find out how to promote your holiday events. Holiday specials must rely on multi-communication channels to produce effects. Promoting on your own social media or paying for advertisements is still incapable of giving you direct communication with customers. Traditional advertising methods like newspaper or direct mail are costly and cannot accurately track the ROAS (return on ad spend), so we developed the text marketing feature to maximize the effect with the lowest cost. Many restaurants choose KwickPOS' text marketing for the returns. We have collected tips and tricks from many restaurants using the feature to prepare your restaurant for the holidays and gain exposure in advance!
Chinese New Year is All about Interaction
The center of restaurant promotion for Chinese New Year is interactive events! For Chinese restaurants without the budget to decorate the store or host grand celebrations, organizing small events is also an excellent way to set the atmosphere while giving your customers an unforgettable experience. To attract customers, restaurants must have on-site activities that highlight Eastern customs and select the right time for the event.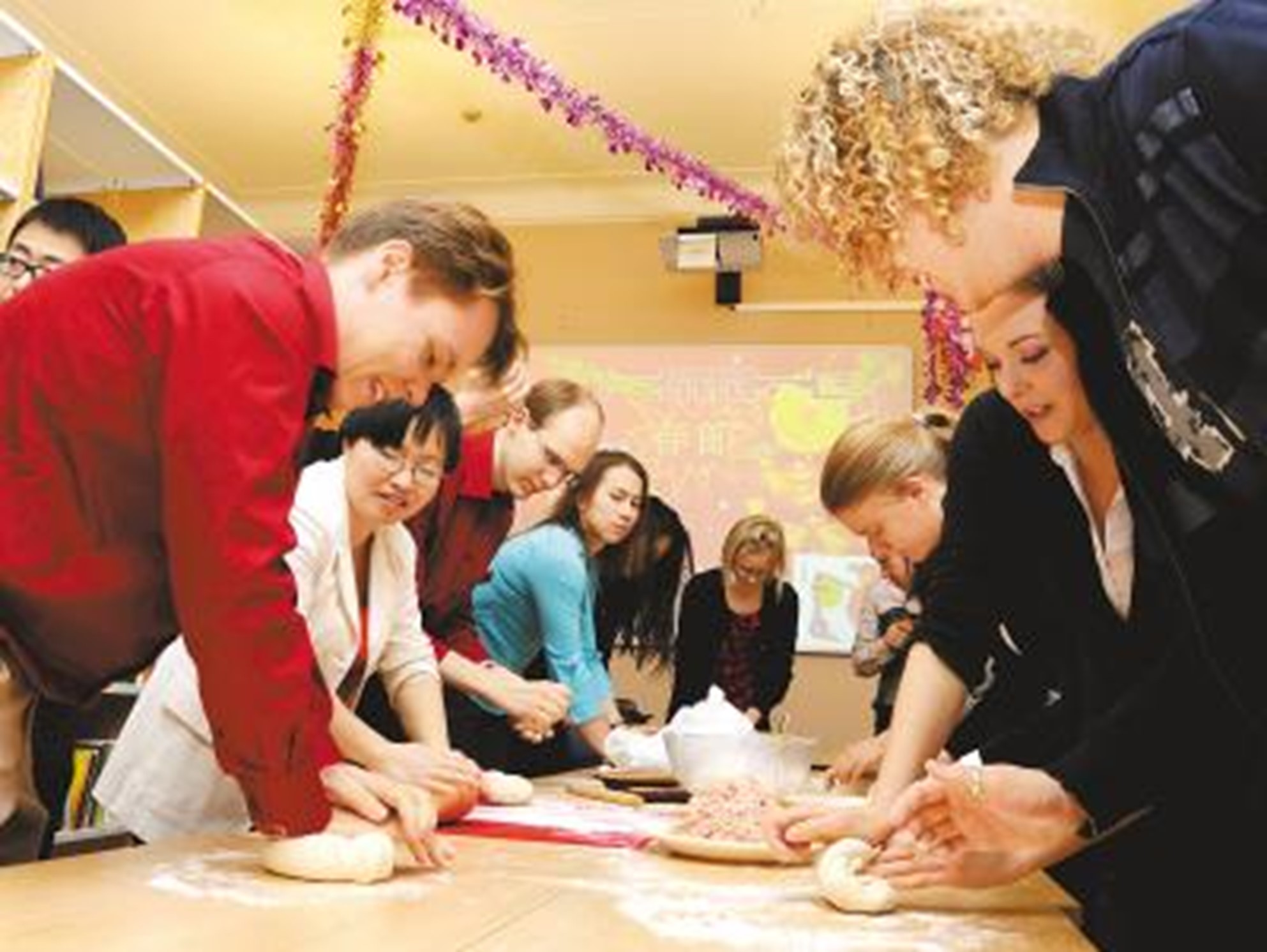 Time frame

Start the holiday event a week before New Year's Eve that the daily activities can be different or the same.

 Event advertisement

Announce the event to your customers one month in advance through text and then sent it again to remind them when the event is nearby.

 The restaurant atmosphere

Restaurants can prepare tangerines as decoration and offer them to customers after the meal. Tangerine is the traditional holiday fruit; especially in southern Chinese regions, it is the symbol of luck.
After the checkout, in addition to the fortune cookies, you can give out gold coin chocolates and don't forget to give the children red envelopes (the size of the red envelopes can be $1-$2 depending on your situation).

 On-site specials

Menu

A special menu for traditional family reunion dinner
Lunch and dinner combo offering traditional Chinese food

Interactive programs

Collaborate with Parent Teacher Association of elementary schools or local communities to organize recreational classes, introducing Chinese New Year. Students can make trips to your restaurant/s participating in interactive programs. Prior to the trip, create posters of the program and post them in the school and community to recruit participants. The programs involve children making spring rolls, dumplings, or wontons under the guidance of the chef. They will then visit the kitchen to see how their handmade food is cooked and enjoy it right away. Also, parents often accompany the students and dine with them. Such events not only increase popularity and revenue but also make the restaurant a top choice for Chinese food locally. 
Romantic Dinner for Two Sets Valentine's Day
The romantic dinner for two is a must-have tradition for Valentine's Day. Restaurants often offer "specials" on the holiday that are more expensive than usual, indicating consumers don't mind the price tag. According to a National Retail Federal survey, 55% of consumers celebrated Valentine's Day in 2020. Eating out on Valentine's Day was the Top 4 choice for this 55%, with 30% of the spending tendency for women and 38% for men, accounting for 34% of other spending items, or approximately $4.3 billion.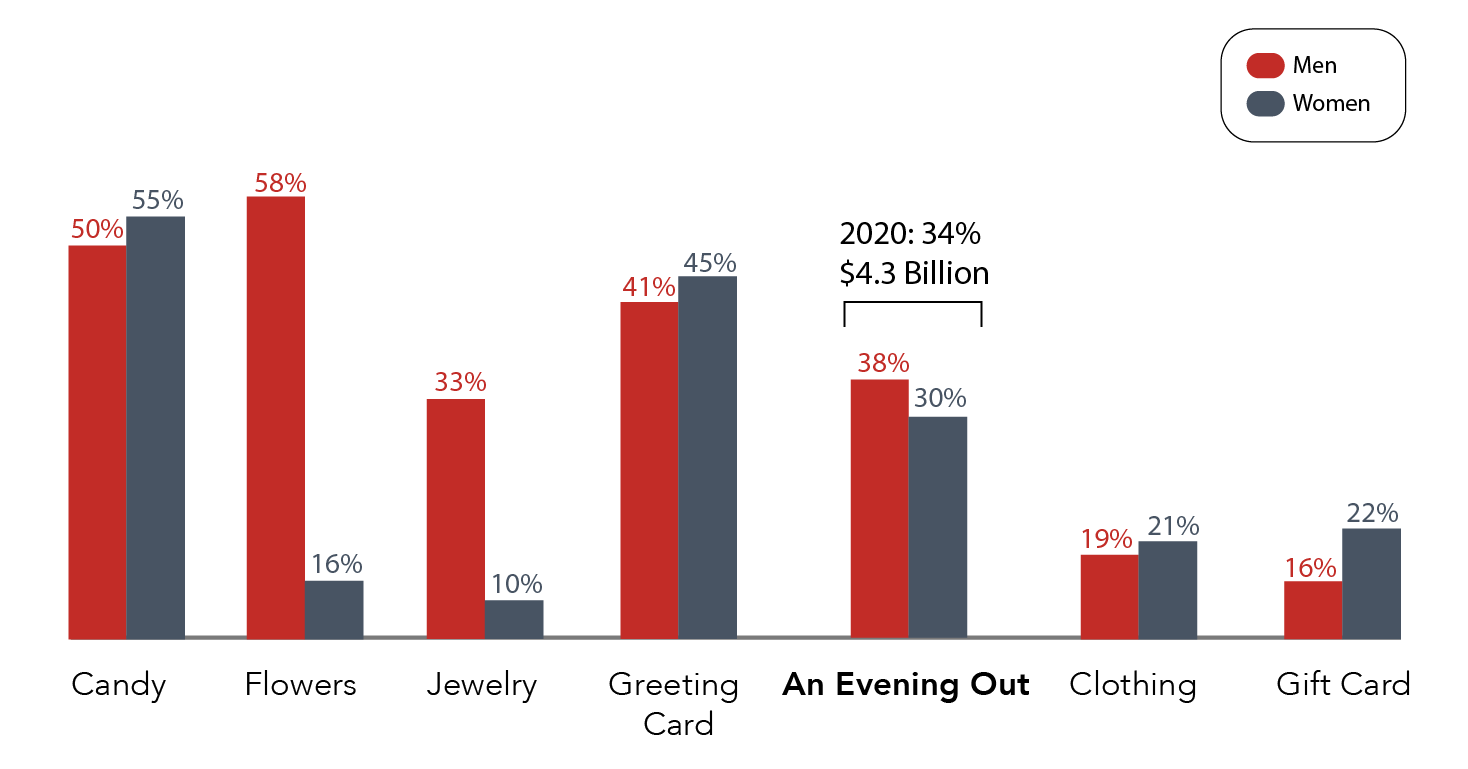 This year, Valentine's Day falls on a Sunday, so don't miss any promotional opportunities! Besides changing your restaurant/s into the love nest, you need to dig deeper.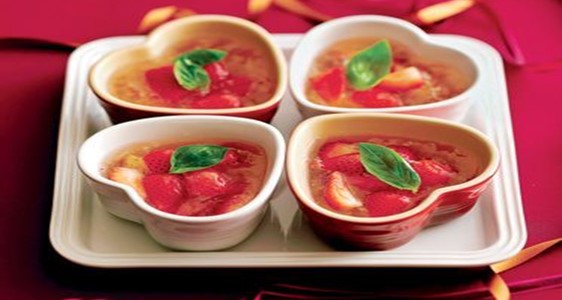 Event advertisement

Start promoting Valentine's Day offers in January via SMS by taking reservations in advance and pre-sell gift cards.

 Special promotions

Gift card

Due to the pandemic, some customers may not choose to dine out, but gift card can be a great substitute and a gift options for Valentine's Day.

 Reservation promotion

Restaurants can design the promotion according to your situation, such as the first 10 consumers can get a gift card worth $20.

 Food display

Have a unified style food presentation from the food to dinnerware shape and color, such as heart-shape.

 To-go orders

Don't forget to package your to-go orders romantically, offering some candles, heart-shaped candies, or roses to add sweet memories for your customers' stay-home dinner.

 Small gifts create deep impressions

A small gift with the restaurant's logo will add value to the customer's experience, whether it's a greeting card or Valentine's Day candies. This is also an excellent opportunity to make a lasting impression on your customers.
Flow with Text Marketing
Now your holiday promotion is all in place, but you need the last push to spread your word and raise customer expectations in advance. It's that easy, just edit the content, press the send button, and you're all set! Let's see how KwickPOS' text marketing feature can help you promote.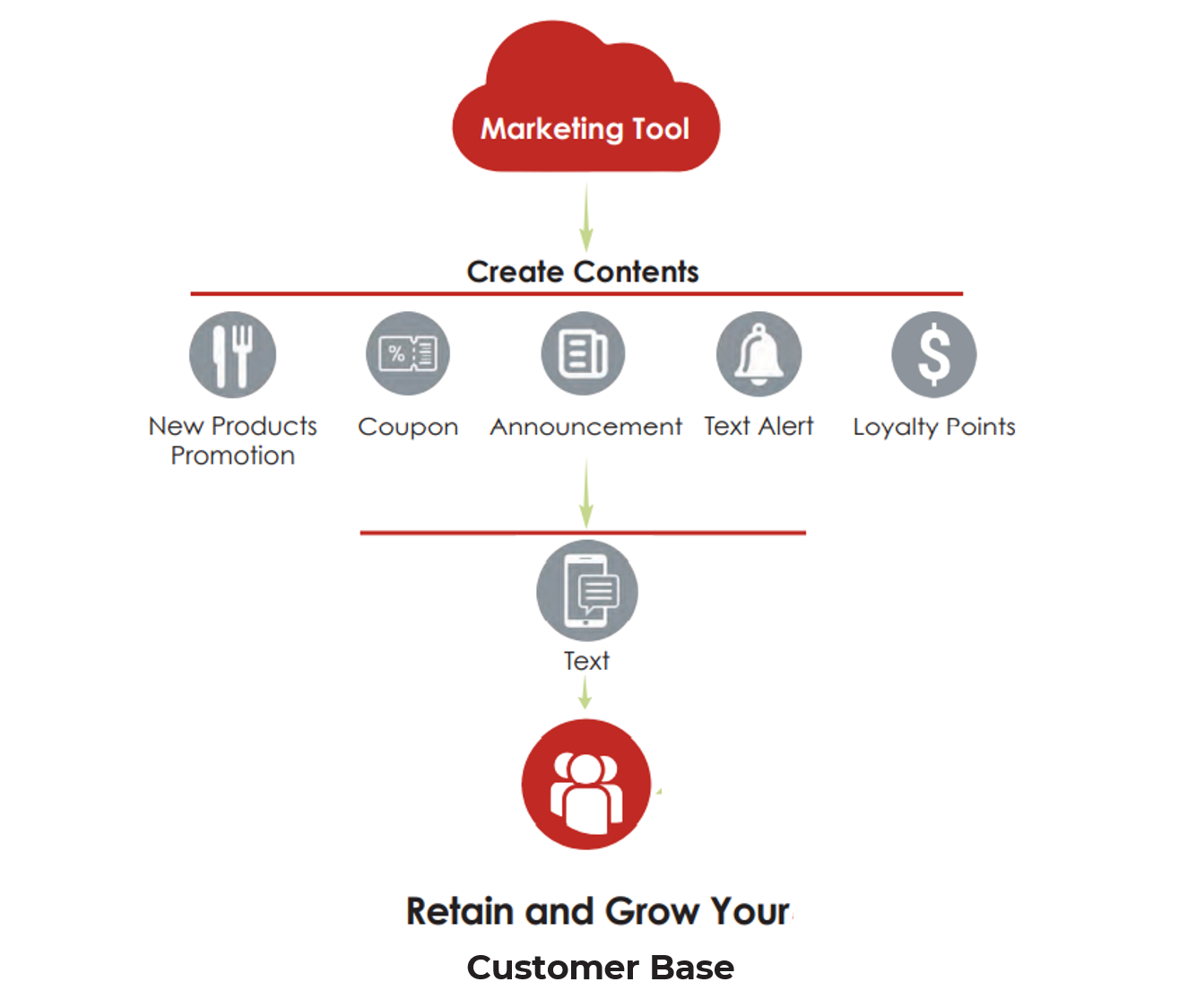 Easy Operation

At checkout, the KwickPOS system will automatically ask customers if they want to receive promotional messages. If you are already using our online ordering, the system will automatically generate the customer information into the CRM to create text lists. A variety of built-in templates allow restaurants to quickly customize content and deliver messages at anytime, anywhere. KwickPOS' text feature is not only a marketing channel but also cuts 90% of the cost of printed flyers.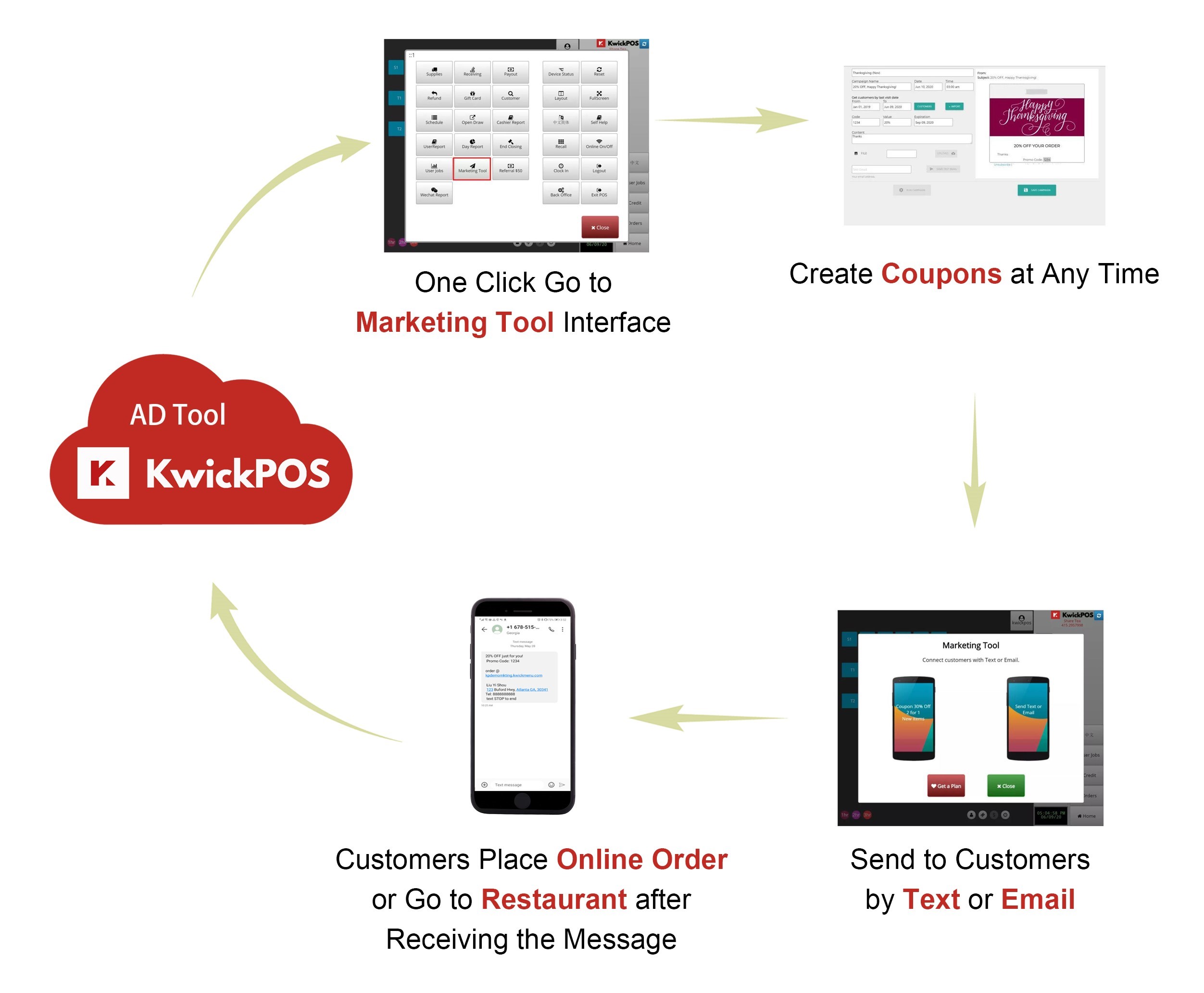 Real-time evaluation of text marketing performance (e.g. whether customers read the SMS, etc.). As shown in the chart below, 2,291 messages were sent; within that, 2,242 messages were delivered successfully with a 100% readership.

Text Setting
Restaurants can customize the text list and the frequency of sending text messages. The feature will filter the recipients according to the number of people or time you set. You can also enable the default sending frequency. Each customer only receives messages once a month or bimonthly, which helps you control the sending frequency and avoid disturbing customers too much.
KwickPOS Alert Message

The text feature is not only for marketing but also for improving the service quality of your restaurant/s. To improve management efficiency and facilitate communication, KwickPOS has developed an alert function for customers and restaurants; especially during the epidemic, it has increased safety while improving the pick-up experience.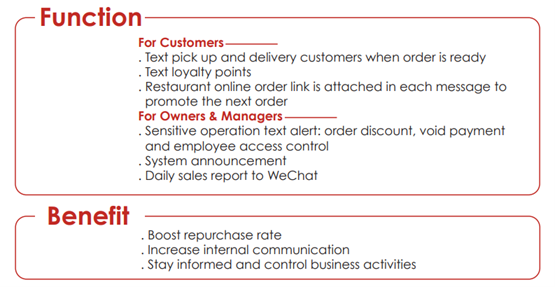 Results from Clients

Many restaurants have seen significant returns by using KwickPOS' text marketing feature, and it has become a new fave among restaurant owners. Restaurants can refer to the following examples of our clients' practices to find the right marketing opportunities and sending frequency. The chart below compares each client's sales on the same day in different years, and the increase in daily sales after using it is instant. The easiest and simplest way is to send out promotional messages in advance before the holidays!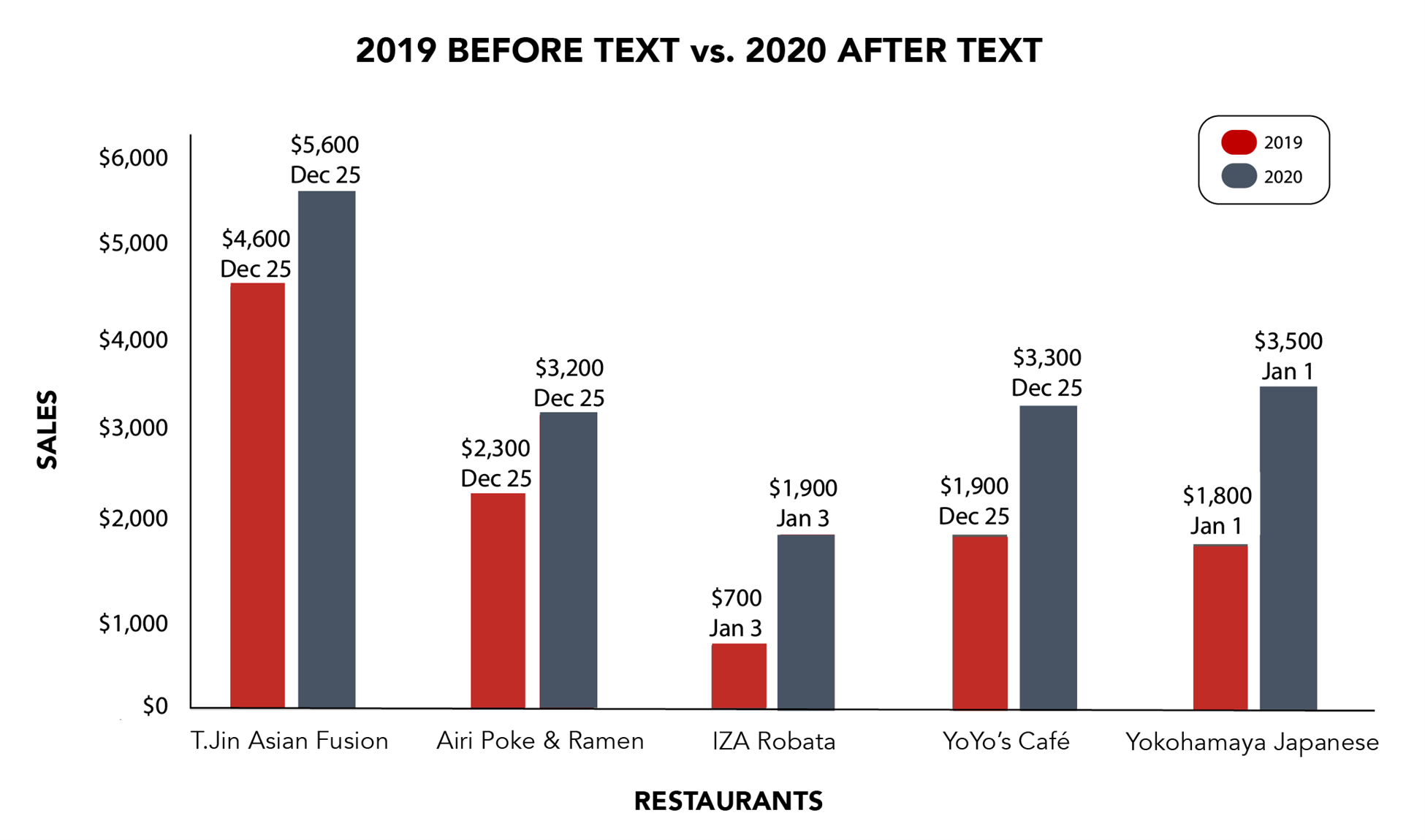 T. Jin Asian Fusion is a Chinese restaurant specializing in American Chinese food. On Christmas Eve 2020, the restaurant sent a text to 2,000 customers, worrying that customers would not know the restaurant would be open for Christmas. The next day, the restaurant's turnover reached over $5000, which was 25% higher than the previous Christmas days.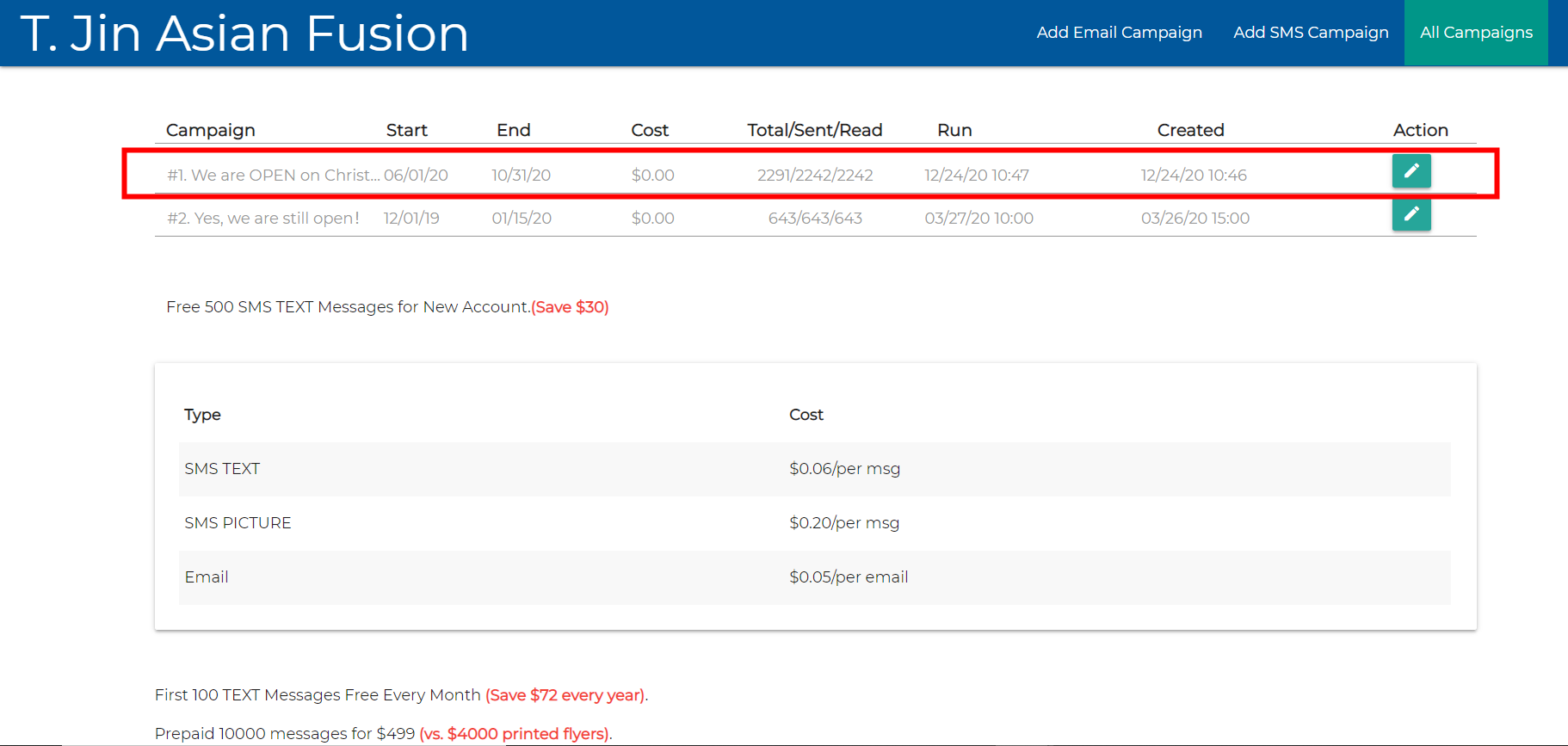 The chart below compares the sales of December 25 in 2020, 2019, and 2018, the daily sales increased by more than $1000 immediately after sending the text in 2020.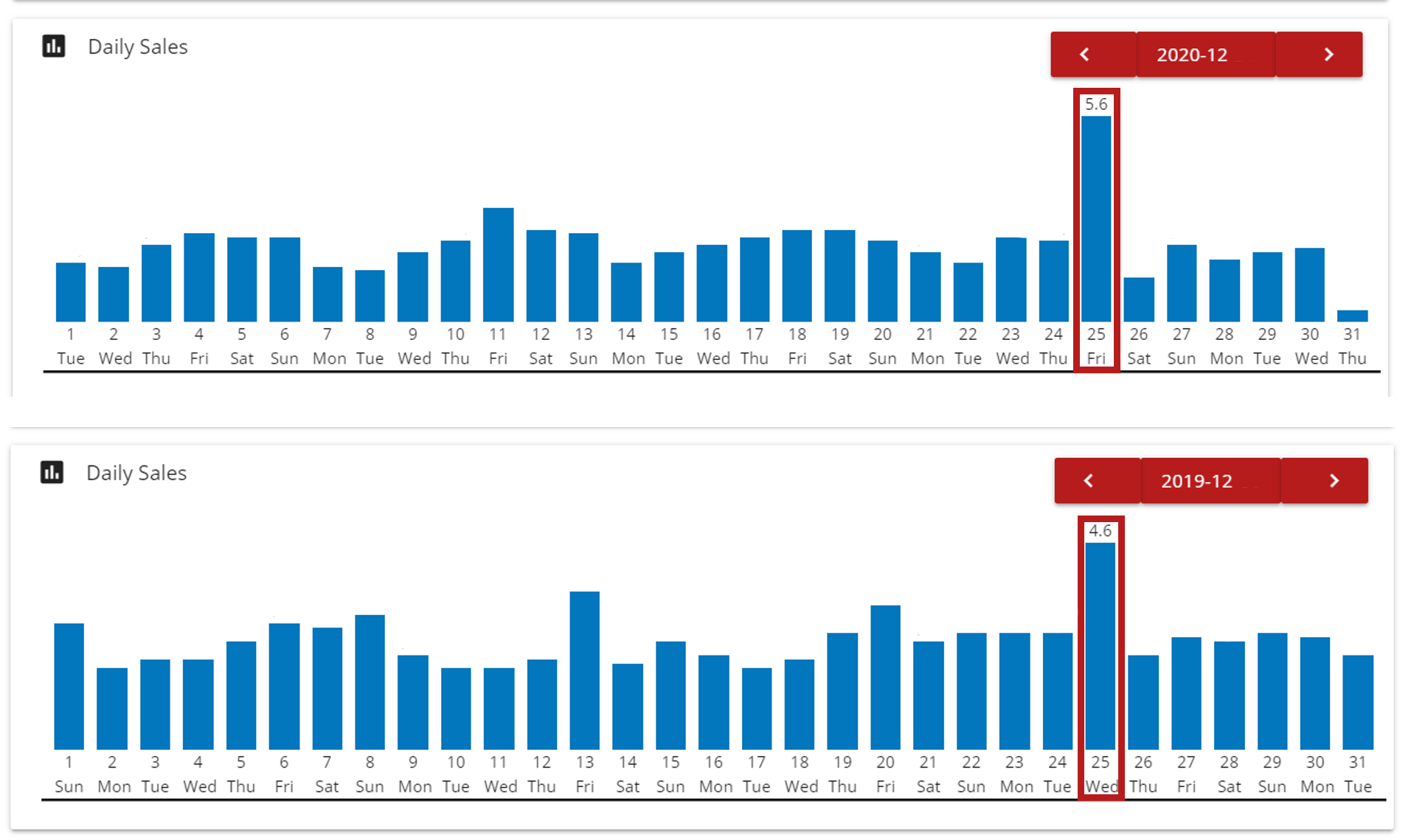 Airi Poke & Ramen has only been in business for two years. Like T. Jin Asian Fusion, the first time they used the text feature was on December 24, sending business operation messages to 3,743 customers.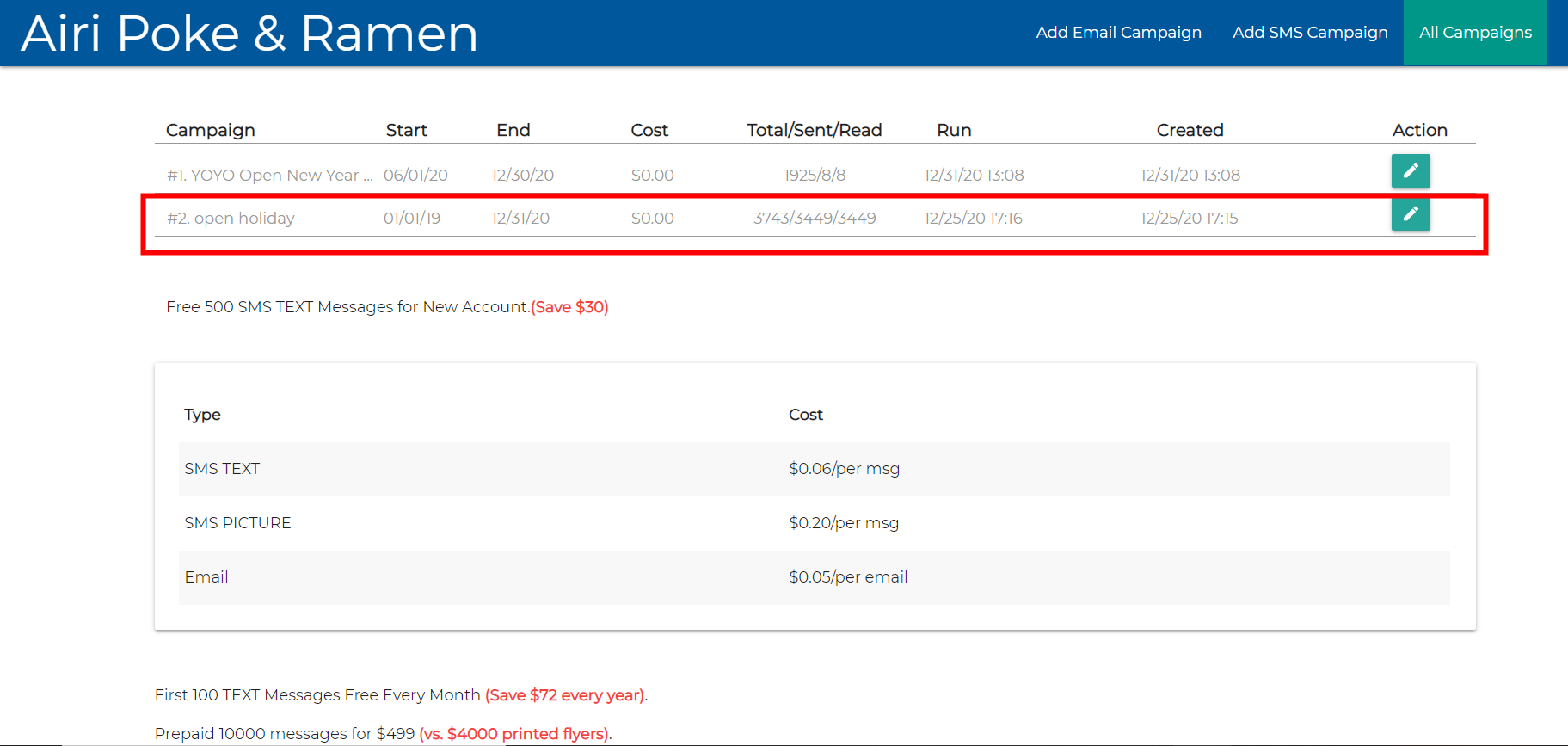 After sending the text, sales on December 25 reached more than $3,000, increasing nearly 40% compared to 2019.


YoYo's café, is a Chinese restaurant in Texas also a fan of our text marketing feature. It has been using the feature since we first developed it. As the following picture shows, the restaurant uses text messages to alert customers about food pickups, announce business information, and promote new dishes. Since the government issued the re-opening order in May last year, the restaurant has notified different customers of its reopening at different times. The frequency of delivery is then adjusted to the current situation; for example, new dish promotions are sent after the reopening text. The text feature has saved YoYo's marketing cost on flyers and greatly facilitated the communication between the restaurant and its customers.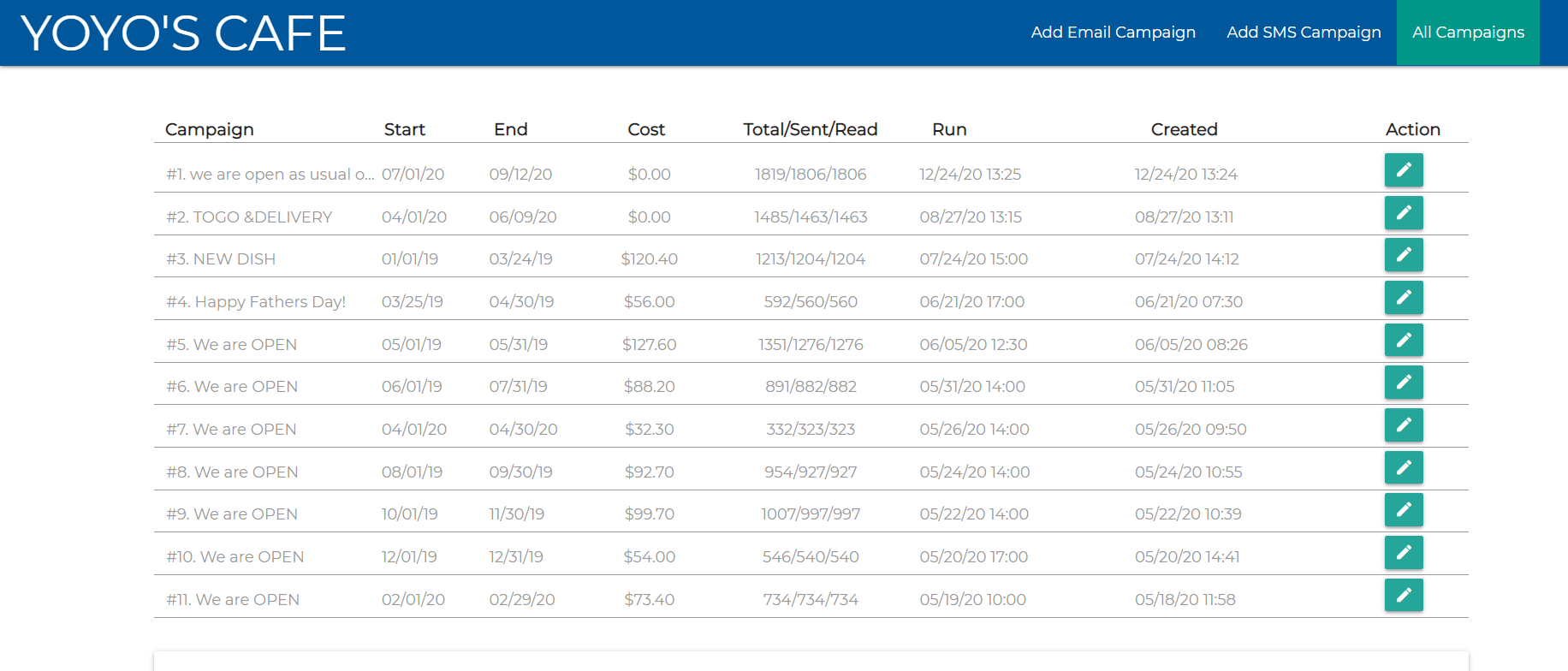 Text Marketing Integration 
KwickPOS' marketing tools go beyond texting, with gift card and loyalty program to help you retain and increase customer base. The text feature can automatically send birthday wishes and loyalty points to members, as well as gift card balances. 
Online ordering

saves customer information for text marketing
Online ordering will automatically capture customer information for restaurant/s to understand customer preferences and then market directly by SMS! KwickPOS Online Ordering comes with a customized e-menu, restaurant website, and ordering system. All online orders go straight to the system without a second entry and can be printed to each workstation in your kitchen. Read the blog for a profound understanding of Online Ordering
When a customer leaves a review for your restaurant through KwickPOS QR Code Review, you can enable the text alert function. The customer's review details will be texted to your phone so that if it is a bad review, the restaurant can handle the remedy right away.
Get 500 Messages for FREE and Save More!

Promotion ideas for Chinese New Year and Valentine's Day have been delivered. We hope restaurants will all prepare in advance to take advantage of the text marketing feature to get the holiday crowds. Promotions, notifications, and alerts are sent with one click without any hassle. Start sending your text now!
Boost your profits with better management and higher efficiency!
Feel hassle with purchasing? Call us today to get more information!
Try our demo.
Drop us a note, we will get your appointment sorted.