As Christmas approaches, many Chinese restaurants are busy preparing for the big day to serve American

families. KwickPOS is here to wish all Chinese restaurants a flourishing business and a very merry Christmas!
Having Chinese food on Christmas has become a tradition in the United States, growing from the Jewish community to a national custom. Most Americans know that Chinese restaurants are open year-round, and as the only type of restaurants open on Christmas, it becomes the only source for people to dine in. Over time, the crowd for eating Chinese food on Christmas has grown, and its significance has grown to parallel to milk and cookies. Right before the holiday, KwickPOS had the pleasure to interview Sandy, the owner of Shanghai Bistro, also one of our beloved clients. Sandy summarized her customers' must-order dishes on Christmas, hoping to inspire Chinese restaurants for more Christmas operation ideas. The tradition of having Chinese food on Christmas goes back to its roots in the history of Chinese food in the United States.
The Hard-Working Chinese People, the Long-Standing Chinese Restaurants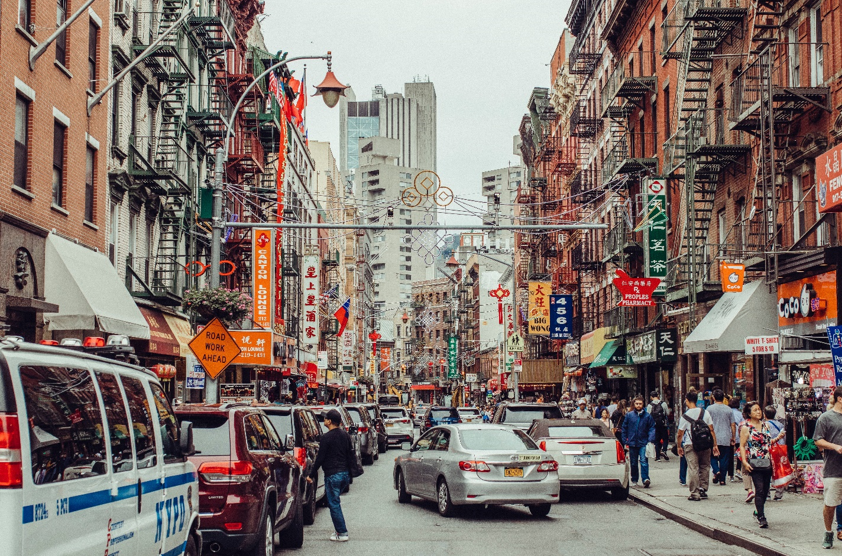 In the early days of the Great Migration, groups of Chinese people left their hometowns coming to the United States of America to settle. However, due to language barriers and the oppressive environment, under such a hard condition, the early immigrants found a way to survive, selling Chinese food. The Chinese food culture has quietly rooted in America, from the oldest Chinese food, Chop Suey, to the nation's most favorite General Tso's Chicken, these dishes have witnessed the growth of Chinese in the country.
The early immigrants' priority was survival; plus, many were not Christian and had no time to celebrate holidays and cannot afford to close their doors all day. Therefore, Chinese food was open year-round to all races and became the only option for Christmas. Ever since the Chinese community started thriving in the United States under exclusion acts and boycotts; however, Chinese restaurants have shown strong perseverance: not only did they not close, but they also became increasingly popular. According to the New York Times, to date, there are over 40,000 Chinese restaurants in the U.S. The hard-working Chinese people grasped every business opportunity and made the Christmas business an American tradition that more and more American crowd into Chinese restaurants on this day.
When the last gift is wrapped and the holiday shopping list is checked, it can be overwhelming to think about making a full Christmas dinner. Google Trends keyword searches for "Chinese food" over the past five years shows that the search volume for Chinese food close to Christmas has been the highest within each year since 2016, and has continued to rise year after year, peaked in 2019. Chinese restaurant owners, don't miss out on this year's business opportunity and be sure to prepare for your customers.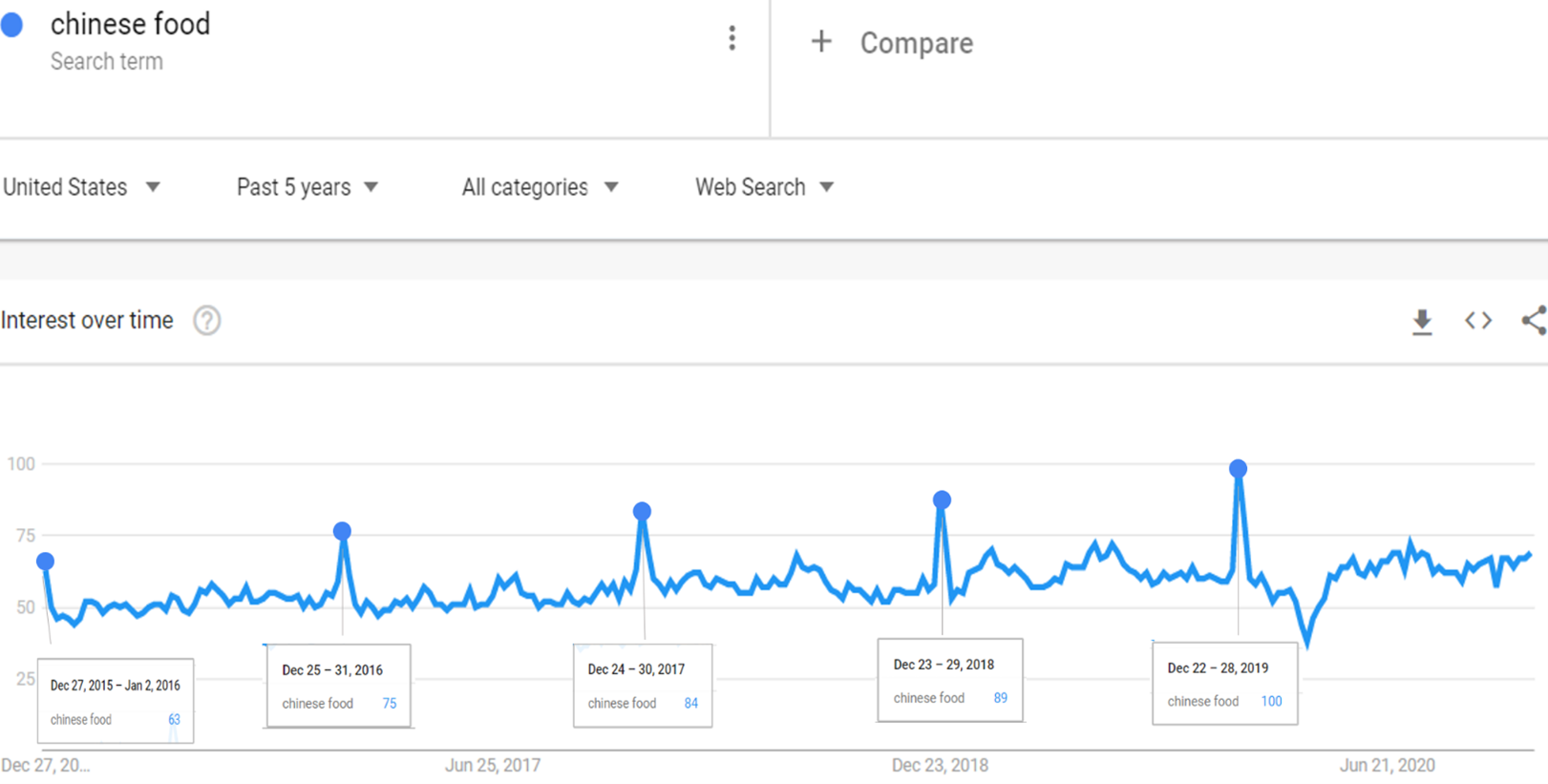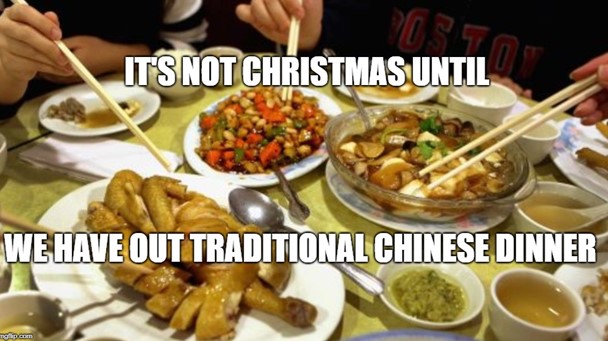 Our client, Shanghai Bistro, is a Chinese restaurant in Houston, specializing in traditional and American Chinese dishes. KwickPOS had the opportunity to interview the owner, Sandy; over the phone, we could tell she was busy stocking up for Christmas. Sandy said, "On this day, we see a lot of regular customers, who usually order take-out only, bring their families to dine-in, and we also get a lot of take-out orders from new customers. In previous years' Christmas, we were too busy to catch a breath, but this year with the COVID-19, customers should incline to takeouts." According to Sandy, the restaurant will pre-sell Beijing duck before Christmas, which was a direct request by the customers, so every pre-sale is in short supply. But besides Beijing duck, customers will only order American Chinese food instead, because for them, it is the food they grew up with and their tradition. Below is the list of the top 10 most popular Christmas dishes at Shanghai Bistro, hoping to inspire other Chinese restaurants for the Christmas business.
Bejing duck
Fried Crab Cheese Puffs
Beef Egg Roll
Wonton Soup
General Tso's Chicken
Kung Pao Chicken
Sweet & Sour Chicken
Orange Beef
Honey Crispy Shrimp
Combination Fried Rice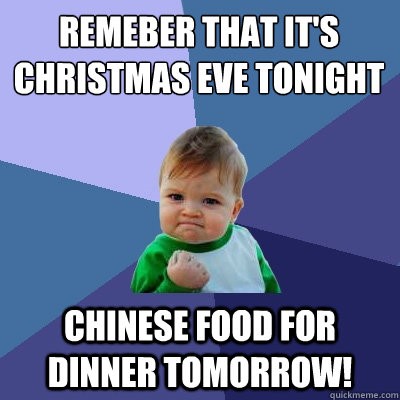 A cup of Hot & Sour Soup has warmed many lonely souls on Christmas, and there is always a place for a kid's meal on a family reunion dinner table in the Chinese restaurants. American Chinese food has accompanied generations of Americans. Among them are the laughter of countless family dinners, childhood memories of sweet and sour sauce with white rice, and the nights spent working overtime in the office while eating General Tso's Chicken.
On this Christmas, we wish you all a very Merry Christmas, and may your business hold the Christmas crowds every day!
Boost your profits with better management and higher efficiency!
Feel hassle with purchasing? Call us today to get more information!
Try our demo.
Drop us a note, we will get your appointment sorted.